BUY THE LATEST LADIES KURTA DESIGNS ONLINE
Do you want to look fashionable to your friends' circle? You need to buy the latest ladies kurta designs online to make your look shine in every season. To be precise, it is difficult for women to keep up the pace with recent trends because they keep on changing from time to time. Different styles and accessories keep adding new fashion statements for ladies. A ladies' kurta helps you keep up with the latest fashion trends. Online shopping has made it easier for everyone to keep up with the new trends, you can buy stylish kurta designs for ladies with convenience from online sources.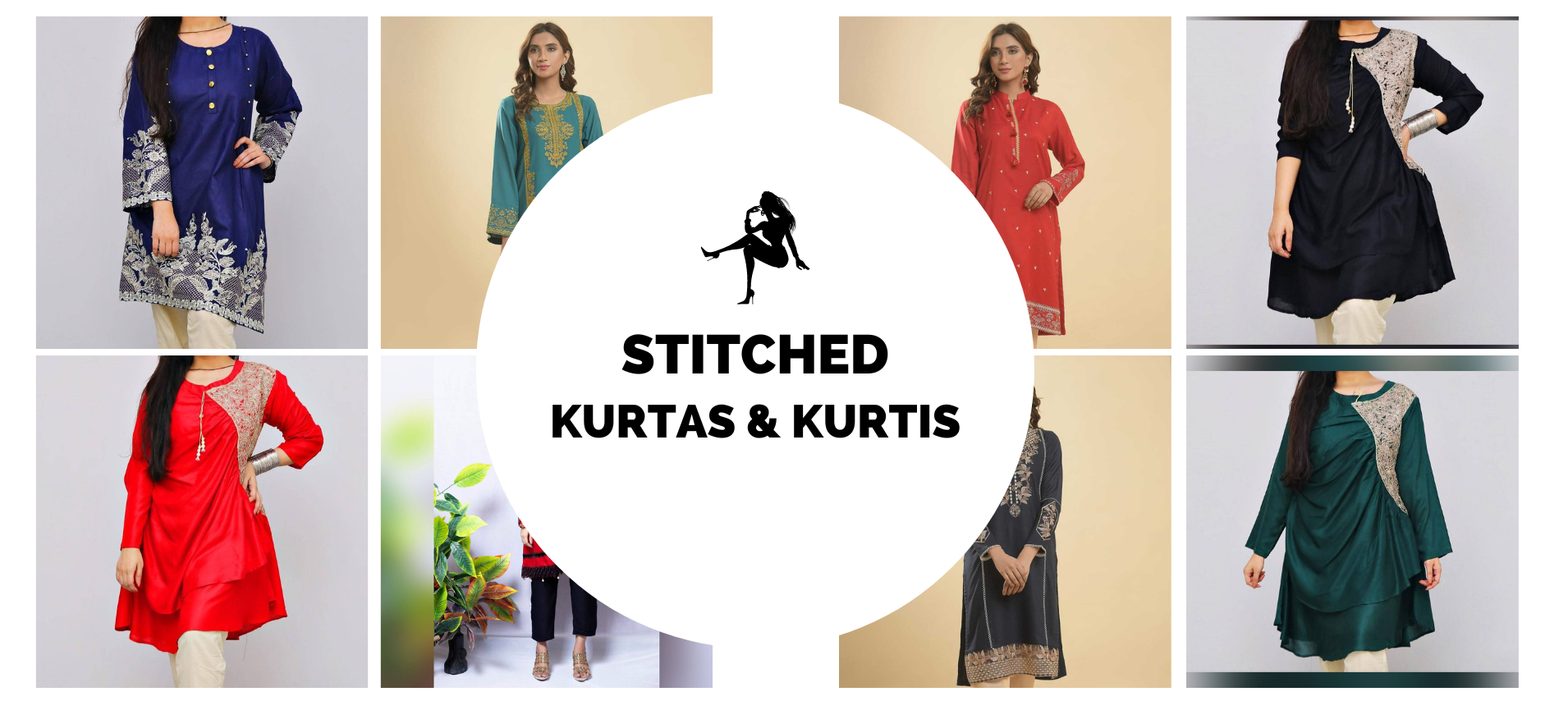 WEAR THE BEST LADIES KURTA DESIGNS THIS SUMMER SEASON
In the hot days of summer, choosing a comfortable dress can be a hectic thing. Wearing something comfortable and trendy can be a difficult task. The latest ladies kurta designs can help you get out of this dilemma. You can wear a cotton kurta that is comfortable to wear in the hot summer without losing your fashion sense. You can easily carry yourself in cotton kurtas that are breathable to feel fresh while going outdoors or doing your home chores indoors.
FASHIONABLE KURTA STYLES TO WEAR IN THE SUMMER SEASON
Ladies' fashion styles never become outdated; they are just out of trend. It is essential to note that something which is considered outdated may roll back into a trend after a few months or years. There are a lot of stylish kurtas for ladies that were popular a few years ago but are not loved as much now. Today young girls like to wear flare short kurtis with bright fusion colors. These ladies kurtis give the best summer vibes and they are comfortable for everyday use.
Although there are many cotton kurta designs for female that are worn by women in Pakistan. Modern women love wearing sleeveless kurtis made of cotton. These kurtis are often considered a fashion trend for rich women in Pakistan. The reason that women wear modest clothes in Pakistan is quite simple. Bold clothes are worn by women belonging to the elite class. That is why this type of bold kurtis for women is not popular all over Pakistan.
WINTER LADIES KURTA COLLECTION COMPLETES YOUR WARDROBE
Pakistan is a country with diverse climate and weather conditions. And every season has its feel and importance. Similarly, winter season fabrics and designs are different in style. The winter kurta for ladies usually has thick fabric made with a mix of wool, acrylic, and linen. The linen kurtis for winter are popular in Pakistan because the weather remains moderate and cold in some areas. Women belonging to snow-falling areas usually have fewer chances to wear ladies winter kurta because the weather remains freezing cold they have to put on layers of clothes to survive the winter. Surely, winter kurtas are a great addition to your wardrobe.
PRINTED KURTIS ARE TRENDING THESE DAYS
Young ladies who go to university or work love wearing printed kurtis to look the best version of themselves. Different types of kurti designs printed on cotton are worn by university students. They love exploring new designs and shapes. The colorful floral prints with different short kurti women designs are popular among young girls. These fancy dresses for ladies are loved by women of all ages. Age is merely a number for every woman. Print kurtis are one of the most convenient and ready-to-wear items for women.
Nowadays, almost all kinds of prints are easily available at your demand. You can easily customize a printed short kurta for women at the most reasonable price online without going anywhere. You can select the print of your own choice and order your kurtis online at the cheapest price as compared to the market. It saves a lot of time for women who are looking to buy lady kurtas with specific prints.
DESIGNER KURTAS ARE JUST A CLICK AWAY
It is critical to note that kurtis online shopping has become more accessible for women because they can order their favorite kurtis from the best ladies kurti designer online. The unique prints and designs from renowned designers are just a few clicks away. The best thing about these designers is that they give you a choice to choose the fabric of your own choice. Fancy-printed silk kurtis are in greater demand, it looks refreshing on women belonging to any age group. Although, the fabric preferences are different for women of every age. But women who have gained weight prefer wearing cotton A-line shirts that help them to cover fat bulges.
FABRIC IS THE MOST IMPORTANT THING IN LADIES KURTA
As we have already discussed that cotton kurtis are best to wear in the summer season, there are many kurta designs for female that are made with various other fabrics and Rayon is one of them. It is soft, durable, and wrinkle-free. Rayon fabric is best for printed color as it does not leave color on multiple washes. This fabric has an elegant touch and classy feel that makes you look charming every time you wear it.
Every fabric material has its quality and flare which makes it unique. Georgette is a smooth, weightless fabric that the latest kurti designers use. This is also breathable and sweat-absorbing like cotton and women love plain kurtis and embroidered kurtis in this fabric. The flowing and weightless quality makes it popular among women in Pakistan.
Just like georgette, chiffon fabric has no weight and it feels like a feather on your skin. The best and utmost quality of this fabric is that it can be dyed into any color. Various kurti of ladies go unsold due to color differences. Chiffon fabric gives you the liberty to dye it into any color of your ladies kurti design and bring the coolest look out of you. However, popular brands in Pakistan make girls shalwar kameez with chiffon fabric that is styled into different outfits for ladies.
PAIR YOUR KURTI IN A DIFFERENT STYLE
If you buy a kurta, you can pair it in different styles. Shrugs are very popular among ladies these days, shrug ladies kurti style will give you the best style statement. The shrugs are not out of fashion any time. You can wear it with your long kurtis if it is sleeveless. And it also looks perfect if you choose to wear it with short kurtis for women that have different flayers.
You can also reverse both pieces of clothing to make a different style statement. For instance, You can wear your simple ladies kurta design with a plain shrug or you can alternate it with a printed shrug under a plain kurta. Both options will give you a standard look. Different kurta style ladies try can vary with weather conditions. Women love to wear denim jackets on ladies short kurta as it gives them an adorable look. Denim jackets also look perfect with kurta style shirt for ladies whereas you can wear them with your high-low cut kurtis.
The new style kurta ladies adopt to wear these days mostly has different styling accessories. You can wear denim jackets with any color kurta for female and it makes your look presentable with sneakers. Women can experiment with a single in a variety of ways.
WEAR BRANDED KURTIS IN DIFFERENT WAYS WITH SKIRTS
branded kurtis in a variety of ways. You can simply pair branded ladies kurta with jeans to give yourself a modern and aesthetic look. Young females feel more comfortable in jeans rather than lahanga dress like sharara or flare skirts. Although, you can still wear branded kurtas for ladies with flare skirts on wedding occasions to give yourself a charming look.
Contrasting your branded kurta for ladies with palazzo bottoms is also a good option, it gives you an optimum whether you are attending a function or casual meeting. You can simply pair it in a variety of ways to look stunning at your gathering.
As we are talking about wedding functions, Pakistani kurtis are also worn with dhoti-style pants. These pants usually have different flares stitched together on the side of your pants. However, cigarette-style trousers are also trending these days and women love to wear them with their stylish pakistani kurta for ladies on special occasions like Eid and other social events. 
BUY THE BEST-STITCHED KURTI ONLINE
The trend of buying stitched kurti is rising in Pakistan because women are fed up with fake promises from tailors, even though some of them have old clothes on the day of Eid. To avoid this major inconvenience they can easily order their perfectly stitched kurtis online from marketplaces like leyjao. The best thing about this marketplace is that you can have the online stitched kurtis according to your size.
The size chart at leyjao allows you to measure the exact size of your kurtis for women online and wear the best size that enhances your look and appearance. This is the only hurdle in ladies kurta online shopping when women have to judge their sizes from size collections. Leyjao gives you the best measurement scale.
GET THE LATEST EMBROIDERED DESIGNS ONLINE
The best ladies kurta brands in pakistanare available on the marketplace of leyjao. This marketplace gives you the latest embroidered kurta for ladies from Needleast. This brand has the best-embroidered kurtas which give you the latest premium feel and are available at the cheapest kurtis online price only at leyjao.
The online marketplaces give you a handful of options to explore the latest embroidered branded kurtis online saleat a discounted price from the brand's outlets. Needleast has listed its latest collection of embroidered kurtis on sale at leyjao. Anyhow, some designers sew kurtas in various cuts and ways which give you the ultimate look.
DIFFERENT EMBROIDERED DESIGNS AND STYLES IN LADIES KURTAS
Pakistan is a modest society, women in Pakistan usually like to wear branded kurti designs with modest cuts and shapes. The tail-cut style kurtas go to your calves and have slightly lifted out from the front side. Women from young to middle age can wear this type of kurta. This kurta suits women with all body shapes except those who have round figure body. You should avoid wearing it at formal functions but you can surely try it on different social and family occasions.
Flared kurti is a female kurta design that is suitable for women from Young to middle age. These are also not recommended at formal events. You can wear them on different occasions according to your taste, like at your college events, function, or social meetings.
Similarly, kaftan-style silk kurtis Pakistani women wear to show their cultural values and ideology.
KAFTAN KURTAS FIT WELL INTO THE PAKISTANI CULTURE
Kaftan is a modest dress style that has a loose fit and flowing sleeves that is comfortable and easy to wear in the summer season. It is a nonformal dress and is recommended as a cozy and comfortable kurta, unlike other maxi dresses that stylishly cover your complete body.
Women with fuller-figured can wear kaftan kurtas easily due to their loose shape and design. It has been often observed that women with this body type also love to wear Anarkali and long flared kurtas which help to cover their body uniquely.
However, if you love wearing palazzos, the side-slit kurtis are the best options for you. This new ladies kurta design comes in a variety of prints that can be worn at any specific event or function of your choice. You can choose to wear it to parties, the office, and casual meetings with your sneakers. These are the specific designs and sometimes become harder to find at physical shops, although you can easily find them on kurtis sale online at a marketplace like leyjao.
WHERE CAN YOU FIND THE LATEST LADIES KURTI DESIGNS ONLINE IN PAKISTAN?
If you are looking for cheap kurtis online, you should visit leyjao. It has the best kurta for ladies design with embroidery and sequin material. These branded online ladies kurtis with price affordable for your pocket are already available on leyjao. Not only the embroidered but plain kurtis sale collection is also premium in quality. The vivid and bright colors of kurtis online women sales are equally attractive. The original branded kurtas are available at the sale. The price is minimal and the quality is optimum, so it is an opportunity not to waste. 
Modest dresses like abaya for girls and full-long kurtas for women online shopping is easier on leyjao. Because it has categorized stitched products differently it allows you to check and review all the products one by one. Moreover, they are giving branded needleast ladies kurta sale prices with huge discounts. 
HOW TO CHOOSE THE BEST LADIES KURTAS PRICE ONLINE 
The kurtis with price reasonable for you are easily available at leyjao.pk, you can easily trust this website because it always gives authentic and accurate prices. After all, pricing is optimized through competitive pricing, which benefits the customer in every possible way. 
Moreover, you get an exciting new collection of fancy kurta design ladies loves to wear in Pakistan. Considering the best design and fit is the main issue women face while doing online shopping. The embellishment is sometimes of low quality and the embroidery is also not up to the mark of online stores. Leyjao.pk has the best quality material at an affordable price. You can check the reviews of other customers to avail the best prices online. 
PAKISTANI WOMEN LOVE TO BUY KURTIS WITH THE MODERN TRENDS ONLINE
As we know Pakistani culture has modesty in its roots. And it is a religious obligation for Muslim women to cover their heads and body with womens shawl or abayas so that they are identified as Muslim Women whenever they come out of their homes. Women love to buy modern short kurtis online Pakistan because of the rising trend of Patiala shalwar. The Patiala shalwar has a short kurta which allows the flares in the salwar to be more visible and attractive. The trend of online shopping for kurtas is increasing these days due to the Eid festival. The elegant ladies embroidered kurta designs at Leyjao are an exclusive edition, which should not be missed at all. You should go and grab your fancy kurta now.
Reviews
Write a review
Frequently Asked Questions (FAQs)
What are the different styles of Pakistani kurtis for ladies?

Long, short, Anarkali, and printed are different readymade kurtis online styles for women in Pakistan. These kurtis are worn with a different types of skirts to give an aesthetic look.
Where can I find printed kurta designs for females?

You can find a variety of printed kurta designs for females at online marketplaces like leyjao, which provides the best fashionable kurti designs online.
What are some options for casual kurtis?

Casual kurtis come in various styles, including cotton, linen, and rayon fabrics, with simple embroidery or print designs. You can get popular branded kurtis on sale from leyjao.
Which is the best kurti store online?

The best place to shop kurtis online is leyjao, which has the best-discounted promotions and vouchers.
Which is the best brand for ladies kurtis online?

Different brands like needleast are the best brand to buy ladies kurtis. The branded kurti sale is currently running online at leyjao. Go and shop now.