Best Deals On Stitched Dresses Online Shopping in Pakistan
Women in Pakistan need more clothes to wear casually rather than for different events. Most of the best deals on stitched dresses online shopping in Pakistan attract women the most. As we all know the inflation in Pakistan is very high so women prefer affordable stitched clothes for their daily wear as well as for different events too. Not only limited to that but online modes of shopping provide more convenience, especially to women.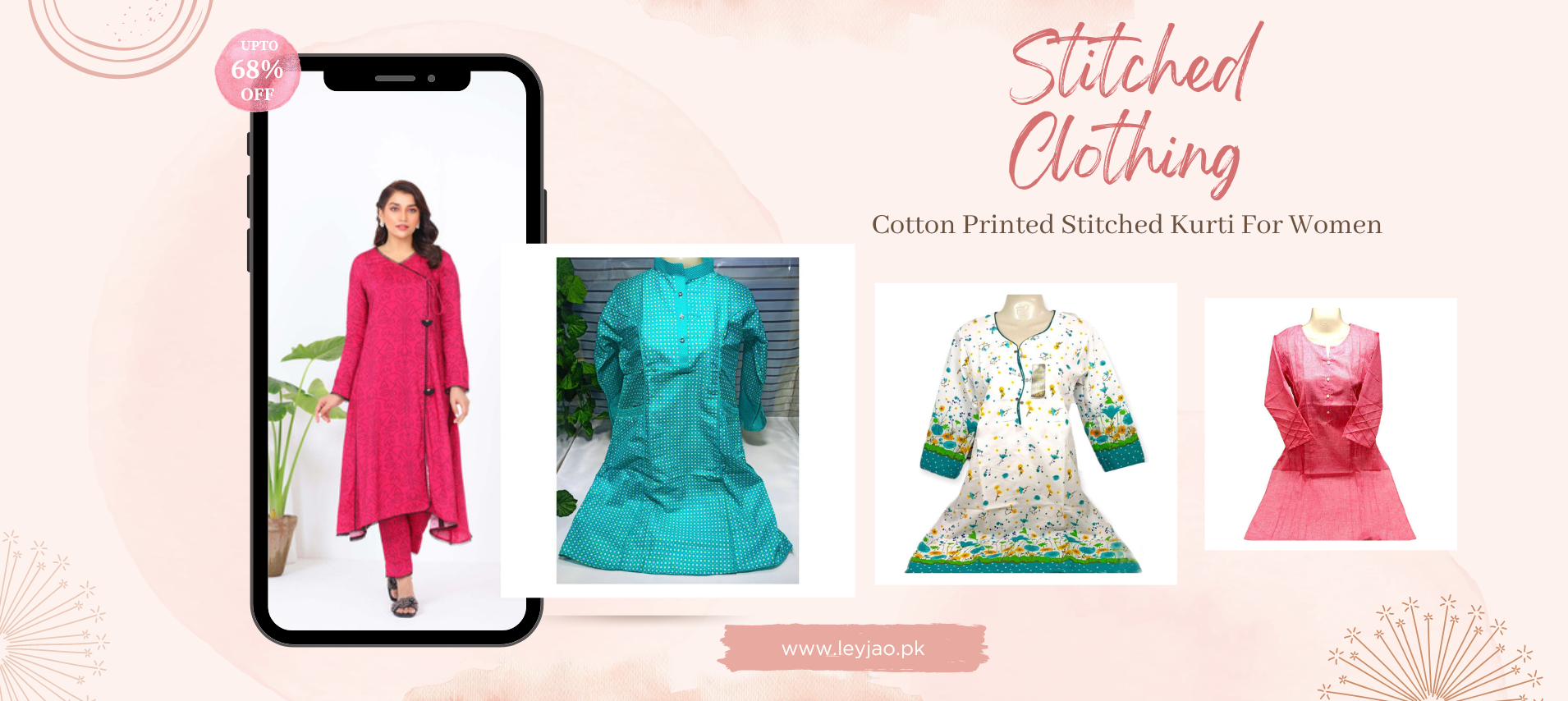 A wide range of affordable stitched clothing collections is available on different online platforms for women. When we talk about dresses that are stitched we usually mean style, designs, prints, and much more. Ladies stitched suits are full of beautifully crafted prints designs, patterns, embroidery details, and many more. You can easily get beautiful online stitched dresses in Pakistan with unique styles at extremely affordable rates on different online websites. 
Convenience Of Doing Stitched Dresses Online Shopping In Pakistan
Online shopping is more convenient because you do not have to surf at different shops in the market. The stitched collection for women has more styles and prints on online websites rather than in the markets. Online stitched suits shopping is more time-saving because it is just under a few clicks. You just have to search different websites by relaxing on your sofa or bed and explore stitched suits for ladies available at affordable prices. 
Most women prefer stitched dresses over unstitched ones because they are more unique and stylish. However, when you do online shopping you can buy different fabrics even in the off-season too. Most of the ladies stitched suits online are available in a wide variety of fabrics in the off-season too. You can get winter fabric in the summer season too, if you have to attend any event in the summer season. Visit leyjao. pk to find a variety of fabrics.
Get Low Price Women's Dresses On Different Online Websites
When you do online shopping, different websites mostly offer different discounts, sales, or even discounted deals on their ladies stitch clothing to sell their products at a high value. Discounted deals always attract women and if it is on the ready-to-wear collection then it is like an icing on the cake. Stitched Pakistani dresses online shopping will never break the bank because of their low prices. Most online websites like leyjao offer different sales.
There are many types of sales available on different online platforms. For example:
Blessed Friday Sale
The Summer Sale
Independence Day Sale
New Year Sale
All of the sales mentioned above or discounted deals on Pakistani stitched dresses online and much more can be easily available to all women. You can easily buy your favorite stitched articles at discounted prices. 
Exclusive Range Of A 3 Piece Stitched Suit For Women
Most women prefer 3-piece ready-to-wear suits because they have no time to make them stitch according to the latest trends. Women's stitched dresses online have an exclusive range of designs, prints, and beautiful embroidered details. The unique styles which are available in stitched garments can not be got same as the unstitched ones. 
A stitched 3 piece suit is mostly preferred because of its embellished dupatta. A beautiful dupatta is the key component of any dress. There are different fabrics available in Pakistan for making a dupatta such as jacquard fabric, textured cotton fabric, organza fabric, silk fabric, chiffon fabric, lawn fabric, yarn-dyed fabric, and much more.
When a woman buys a 3pc stitched suit she first looks at its dupatta. Although, women have to attend different gatherings so they must need a beautiful semi-formal type dress to carry on such gatherings. The stitched women's clothing online has a unique range of designs. Women will slay from top to bottom after wearing a unique and stylish dress. 
Different Styles Of Branded Stitched Suits
Different brands have launched different styles of stitched articles every year. There are a wide variety of stitched dress brands in Pakistan to have a unique look for any event or even on casual days too. Women do not only want stylish clothes for some events or occasions but they also buy online stitched suits for casual wear. Thus every woman wants to add more variety to her everyday wardrobe. Shopping is like retail therapy for every woman. 
There are different ranges of prices and styles for unique designs of stitched dresses brands in Pakistan, especially on leyjao. pk. In this article, you will get to know about varied varieties of styles in the ready-to-wear collection for ladies and where you can wear them too. So keep reading to get a piece of detailed information regarding style and fashion.
You can easily buy different styles of branded dresses on leyjao. Because leyjao has collaborated with top Pakistani brands such as:
Alveras
Bint Al Bilaad
Black Hawk
Jaan Agha
KamKlass
Memon Online
Miss Dorra
Noorangi
Needleast
Embellished Stitched Party Wear Dresses To Slay
Pakistan is a country where different events and traditional occasions took place every year. So women need fancy stitched suits to attend these events and traditional occasions. But the question here arise is which type of fancy dresses they can wear on such occasions and events. 
Most of the stitched branded dresses have unique designs and styles. Women can buy long shirts, short shirts, long frocks, maxis, and much more. Stitched ladies suits are a blend of beautiful color combinations and amazing prints. Women can buy all these fantastic suits and wear them on different occasions to enhance their beauty.
Varied Varieties Of Stitched Suits Online In Pakistan
By stitched articles, we mean a variety of styles. It depends on you which style you want to carry. Also, which style will give you a classy look? Most women wear stitched frocks because frocks always gave a classy look.  Long flared frocks are considered traditional dress in Pakistan. Stitched dresses in Pakistan have an amazing collection of different styles of frocks.
These long flared frocks are available online in many styles. Angrakha-style frocks are the most common to wear at different events. Other than angrakha style frocks, when you buy stitch dresses online there are many other styles of frocks that are also common in Pakistan such as long kalidar frocks, umbrella frocks, and many more styles of frocks.
Ban Style Neck Shirt Paired With Trouser
Women's shirts have many different styles of necklines. The ban-style neck is very trending in Pakistan. Most of the online stitched dresses for ladies have a ban-style neck with a row of buttons on the front or a v-cut shape on the front. Both styles of necklines look perfect in their own way. 
Most of the stitched cotton dresses have a ban-style neck. Because a ban-style is a perfect design for cotton dresses. Some cotton dresses for women also have little details of embroidery on them. Which makes them a perfect chic for any lunch gathering. 
Samosa Lace Design Shirt Style Suit
Samosa lace design is trending since 2022-23 in Pakistan. It is a very stylish and unique trend that enhances the style of the shirt. Women stitched lawn suits have a samosa lace design shirt style. The samosa lace design is not only on the neckline of the shirt. But it can also be on the chaaks or on the hem border.
These samosa lace designs are not only limited to shirts. When you buy a stitched suit for ladies, these suits also have a samosa lace design on the dupatta borders too. So, a samosa lace design not only enhances the style of the shirt. But it also makes the style of the dupatta more unique. 
Zig Zag Style Dori On The Neckline Of The Shirt
The Dori style is loved by all women in Pakistan. Most of the plain and simple suits which can be worn on a daily basis have a dori style neckline. A 2 piece stitched suit mostly has a dori style neckline of a shirt. You can easily find this unique and stylish suit on leyjao. There are also many styles of how you attach a dori to a shirt. It can be attached in a simple straight way or in a zig-zag style too.
The zig-zag style is unique and trendy. Some women's stitched dresses have a zig-zag style neckline. Although, there are many different styles of Dori too. Some have a tassel on the end, some have stones on the end, and some have a stylish flower style on the end. 
Thus the stitch ladies suit has its own style of neckline. As we all know, a stylish neckline defines the beauty of a dress. So, a dress must have a unique design for the neckline to look more classy. 
Embroidered Hem Border Stitched Dress Paired With An Organza Dupatta
If a woman needs a suit for any event or gathering she always prefers an embroidered suit. Because stitched suits for ladies online have a wide variety of embroidery designs and style suits. These embroidered dresses are a perfect chic to enjoy a classy yet decent look.
There are different designs and types of embroidery.
The embroidery can be anywhere on the shirt, whether on the neckline, sleeves or on the hem border. When you buy a stiched dress for women you mostly prefer an embroidered hem border style dress. A suit has many styles of dupatta. Sometimes an embroidered hem border ready-to-wear suit is paired with an organza dupatta. Thus, giving the dress a semi-formal vibe.
When women buy lawn stitched suits they mostly prefer embroidered dresses. In Pakistan, many occasions take place in the summer season. So, women need lawn suits to attend those occasions. But they can not wear simple dresses. So, prefer embroidered dresses paired with embellished dupattas.
Long Embroidered Kalidar Maxi
In Asian countries like Pakistan, the wedding functions are the longest based on 4-5 days. So, women need many fancy dresses to attend these functions. There is a wide variety of fancy stitched suits for women to attend different wedding functions and other types of events. Among these fancy suits, a long embroidered kalidar maxi is most common.
Women prefer to wear long embroidered kalidar maxi because it gives them a decent and classy look. There is a wide variety of fancy online stitched dresses in Karachi at extremely affordable prices. Due to high inflation in Pakistan not anyone can afford expensive fancy dresses. So, in Karachi, a low price ladies dress is available to attend a function. 
These low-price dresses are not only available in stitches. But unstitched suits for ladies have varied varieties of fancy fabric to wear at weddings. Leyjao. pk is not only based on stitched dresses but it has a variety of unstitched dresses too. There are different types of fancy fabrics available such as chiffon, crinkle, georgette, silk, organza, velvet, and many more. All of these unstitched suits are available online for the ease of ladies. 
Plain Lawn Dress Paired With Embellished Dupatta
A lawn is the most wearable fabric for ladies in the summer season in Pakistan. Lawn dresses are perfect to wear casually. Online ladies stitched suits have plenty of designs of lawn dresses to wear casually. By casual dresses, we usually mean printed or plain dresses. As women have to do all household chores so they can not wear embroidered dresses all the time.
Wearing embroidered suits all the time causes itching on a woman's body. So, they prefer printed or plain lawn suits. Most Pakistani stitched dresses are available in plain lawn style. But in 2023 in Pakistan, a plain lawn dress paired with an embellished dupatta is also in trend. You can easily wear such type of dress for daily gatherings. 
These embellished dupattas are not always in fancy fabrics like organza, silk, jacquard, yarn-dyed, etc. but a stitch dress for woman can also be paired with a printed lawn dupatta. A printed dupatta is also like an embellished dupatta with a plain lawn dress. It adds beauty to the plain dress.
Short Full Sleeves Frock Paired With A Shalwar
Short frocks are always in trend in Pakistan. These can be paired with many styles of bottoms such as palazzo, straight trousers, shalwar, tulip pants, and much more. When you buy Pakistani ladies stitched suit on leyjao you will find a short full sleeves frock paired with a shalwar. Because it is a unique style dress for all women. This type of dress is available in many fabrics.
You can easily wear this type of dress both in the summer season as well as the winter season. The best stitched dresses online shopping depends on the style of the dress. That is how unique style dress you choose for yourself. Because online websites have more variety of dresses available both in stitched and unstitched articles.
A short full-sleeved frock paired with a shalwar is the perfect essential wear. This style mostly looks best in the jacquard fabric. Ladies stitched dresses online are widely available in the jacquard fabric. This fabric is perfect both for the summer season and the winter season. It can also be easily worn on traditional occasions like Eid.
Kaftan Style Embellished Dress
Even dresses for women have many styles. These dresses not only depend on simple suits, shalwar kameez, touser shirts, and many more. The kaftan style dresses are also trending in Pakistan in 2023. Stitched online dresses have plenty of designs for all occasions. The kaftan style dresses are embellished dresses. It is available in many fabrics of which silk and viscose are the most common.
This style of dress is perfect to wear for a reception event and a birthday party. When women do stitched dress online shopping for a reception event or a birthday party they prefer kaftan-style embellished dresses. These types of dresses are more elegant. An elegant style dress makes a woman more beautiful and pretty.
A kaftan-style dress can be in full sleeves and half sleeves. It looks perfect in both types of sleeves. Most of the women buy dresses when there is sale on stitched dresses because they are more affordable in sale rather than in actual price. Leyjao is offering an amazing discount on almost all stitched articles. Women prefer fancy dresses on sale because they can only wear them on occasion and not casually. So, why waste money on some events? Thus, prefer to buy on sale. 
Same Shirt Dupatta With Contrast Trousers
The same shirt dupatta with contrast trousers looks perfect on a woman. This style is trending in Pakistan since 2022-23. Most of the ladies suit stitched have the same shirt dupatta with contrast touser. The shirt dupatta can be of any fabric. The lawn stitched suits online have a wide variety of same-shirt dupattas and contrast trousers. The same shirt dupatta can be printed as well as embroidered.
Best Stitched Clothes Brands In Pakistan
There are many online brands available in Pakistan, especially leyjao that never compromise on quality. Women prefer branded dresses because they want quality stiched clothes. Women have to repeat the clothes several times. So, if they buy local dresses with zero quality they were just wasting their money.
So most of the brands pret online store have a varied variety of stylish dresses at affordable prices. Leyjao never compromises on style and quality. They assure their customers that they have top-quality fabric for their stitched clothing online collection. So, whenever you buy dresses online you never feel any hesitation. You just choose your favorite dress and immediately make a purchase.
Reviews
Write a review
Frequently Asked Questions (FAQs)
Where to buy the best stitch pret for casual wear?

On leyjao.pk, you will see an amazing collection of stitch shirts online with extremely affordable prices.
Why women prefer online stitched dress shopping?

Women prefer stitched online shopping because it is more convenient and time-saving. Although you can receive your dress at your doorstep.
How many fabrics are available in online stitched dress shopping in Pakistan on leyjao?

A diversity of fabrics are available for stitch suits online on Leyjao with amazing quality of different branded dresses.
What price range of stitched cloths on leyjao?

The price range of women's stitched clothes on Leyjao is from Rs 540-35,000
What is the estimated delivery time of a stitch dress online on leyjao?

The estimated delivery time of stitched women's clothing in Pakistan on leyjao is approximately 5-7 working days.